Skip to Content
Hot Water for the Holidays & Beyond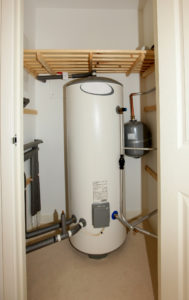 All we want this holiday season (and beyond) is to provide effective and consistent quality home comfort services to the families and communities in this wonderful city. Consistent access to hot water is important, and something no one should ever take for granted. We pride ourselves on being able to provide the right products/services to ensure this is possible for everyone.
A fundamental part of the home HVAC system, hot water heaters serve the basic function of heating up water to be delivered to areas of your home when needed. We often don't look at a hot water tank as needed to be replaced unless it's not working, but with Bryant's latest models of hot water tanks, the difference in performance and economical savings really make it worthwhile to consider a more efficient piece of equipment.
We offer both gas hot water systems as well as tankless heaters. Contact us to learn how we can effectively keep your home comfort needs a meeting. Also, check out our latest holiday promotions, before it's too late!
Stay tuned, this page is coming soon.
Call Us Today for a Free Estimate