Skip to Content
Expert HVAC Service from Stan's Heating & Air Conditioning in Ottawa, ON
Providing Top-Notch HVAC Services
Stan's Heating & Air Conditioning proudly serves Ottawa families with reliable heating, cooling, and other HVAC services. Founded in 1969 by Stanley Sugrue as a family run business with a mission to provide Ottawa families with affordable and reliable HVAC services. Stan believed that a homeowner should not have to pay an arm and a leg to keep their family comfortable in their home. Today, Stan's Heating & Air Conditioning is run by Stan's nephew, Lyle Sugrue, who has carried forward Stan's legacy and mission by continuing to offer affordable heating and air conditioning services to Ottawa families.
Stan's original vision for the company has expanded from its original focus on affordability to also include excellent customer service and transparency to ensure that clients feel that their needs are met. We are upfront with our pricing and will not suggest additional services besides what was originally quoted. Our technicians will also work with you to meet your specific needs and budget while focusing on long-term solutions over quick fixes. Stan's Heating and Air Conditioning also has a culture that prides itself on offering professional and knowledgeable services to Ottawa families with a focus on integrity. Our quality is guaranteed, and we want to make sure our clients understand how important their business is to us!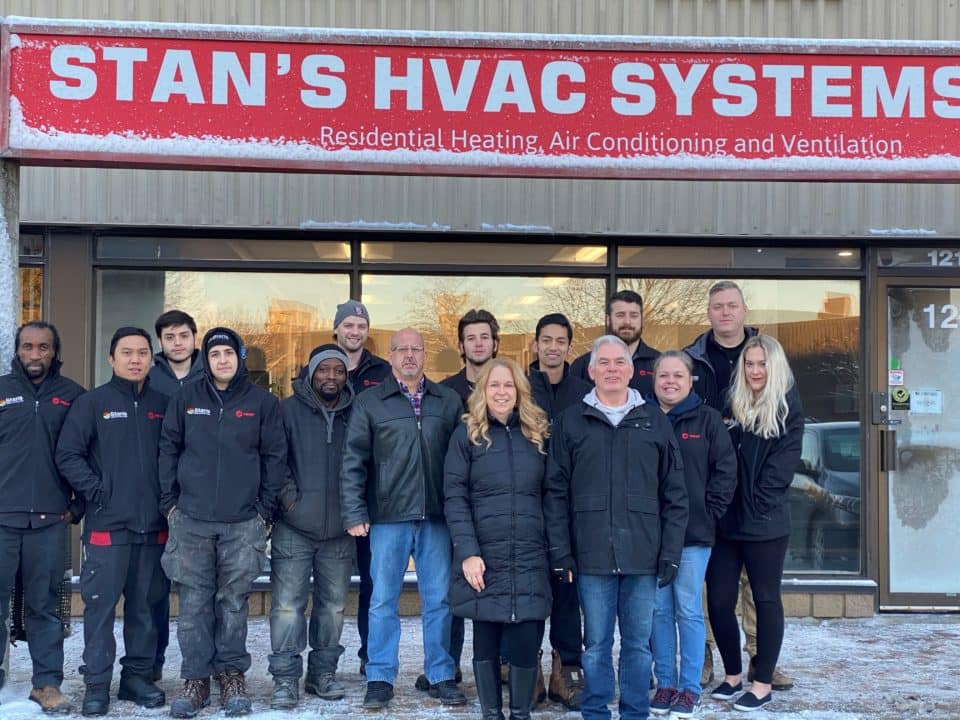 Air Conditioning, Heating Repair & Installation Specialists
At Stan's Heating & Air Conditioning, we only staff knowledgeable, experienced, and efficient technicians to better serve you. Homeowners can trust our team to carry out any installation, repair, or maintenance task for their air conditioner, heater, furnace, air purifier, or other related systems. We set out to keep your family comfortable in your home, no matter the season. Whether you require a full system installation or a yearly maintenance checkup, our team of licensed, insured, and bonded technicians will carry out your needs with precision and adaptability. Contact us today with your HVAC needs, and we'll let you know how we can help.
Choose Stan's Heating & Air Conditioning
If you are in Ottawa and are in need of affordable, reliable, and transparent heating and cooling repair services, contact Stan's Heating & Air Conditioning. We have been serving families in Ottawa for more than 50 years and pride ourselves on continuing our founding mission of providing reliable and affordable HVAC services. Homeowners shouldn't have to choose between cutting corners and the comfort of their families when trying to maintain a pleasant environment inside the home. Our professional and knowledgeable technicians will work with you to make sure that your specific HVAC needs and budget are met without offering services that are not necessary or surprising you with costs outside of those presented in your initial quote.
We are an accredited member of the Better Business Bureau with an A+ rating. We are also a certified member of the Heating, Refrigeration and Air Conditioning Institute of Canada (HRAI), so you can rest assured that you're receiving quality work. Throughout our work, our teams are respectful of your property, making sure to clean up any messes we create along the way. We utilize trusted name-brand equipment and systems from companies like Bryant® to guarantee our quality work. They are regularly hailed as the most reliable manufacturer of heating and air conditioning products. Call us today to schedule your HVAC installation, repair, or maintenance appointment and get the most out of your system.
Schedule an Appointment
If you are in Ottawa and need heating and air conditioning repairs for your home's HVAC system or are looking for a seasonal maintenance checkup, contact Stan's Heating & Air Conditioning today! Our friendly, professional, and knowledgeable technicians will respond in a precise and timely manner.
Call Us Today for a Free Estimate