Skip to Content
Bryant Indoor Air Quality Products in Ottawa
Indoor Air Quality Products in Ottawa
Indoor air quality is important and if you or someone you love suffers from allergies, asthma or other respiratory problems, or if you are simply concerned about the quality of the air inside your home, it's time to call Stan's. We offer products such as air purification and filtration systems that can significantly reduce pollutants and other harmful indoor contaminants.
When we think of 'HVAC', we often think of the furnace and air conditioner, or in other words, temperature. However, home comfort is much more than just temperature – it's also air quality and humidity control.
Air Purifiers
Pure, Fresh Air
Air purifiers are devices that help remove contaminants from the air. They are especially useful for those who suffer from allergies or asthma, and they can even help reduce second-hand tobacco smoke in the air. Although an air purifier is generally used by those with health concerns, they are beneficial for everyone as they improve the quality of the air you breathe.
Air Purifiers Filter Such Particles As:
Dust
Dirt
Pollen
Mold
Skin flakes
Pet Dander
Bacteria
Other Foreign Particles
No one wants to breathe in any of the above, so an air purification system is always beneficial for you, your home, and your family.

Perfect Air™ Purifier
Protect Your Home and Health: Eliminate Airborne Pollutants
The Perfect Air Purifier works to capture and kill dangerous bacteria, viruses and mold, safeguarding the air quality of your entire home. Indoor air is re-purified, not just filtered, as often as 8 times each hour.
99% germicidal or inactivation for 13 organisms
Healthier, cleaner air
No cleaning required
Protects heating and cooling equipment
10-year parts limited warranty upon registration
Models: GAPAAXBB
Humidifiers
We offer the consumer-proven line of Bryant humidifiers to improve your home comfort.
Although a humidifier has a simple task to perform, maintaining proper humidity is very important, and they can bring upon many benefits for you and your home.
Benefits of Humidifiers
Reduces dry skin and itchiness
Alleviates cough and flu symptoms
Moisturizes respiratory system for those with asthma
Moisture in the sinus allows you to better filter bacteria and pollutants
Increases oxygen levels for less headaches and fatigue
Keeps furniture, paints, and other surfaces from drying and cracking
Makes your home feel more comfortable and reduce heating costs (as humid air naturally feels warmer)
Below are the Bryant humidifiers we carry. Get in touch with us today by using our online form, and we'll be happy to recommend the best model for your needs.

Preferred Series Bypass Humidifier
Top of the line system for total home comfort.
This line of central air conditioners delivers ultimate home comfort through Bryant's highest SEER rating; the finest in energy efficiency and economical performance.
Up to 20 SEER (Seasonal Energy Efficiency Ratio, an efficiency measure)
Sound as low as 68 dB (quiet as a vacuum)
Superior humidity control
Improved indoor air quality
Two-stage operation for maximum comfort
Enhanced diagnostics with Evolution control
Environmentally-sound Puron® refrigerant
10-year parts limited warranty upon registration
Models: HUMXXLFP, HUMBBSFP

Preferred Series Fan Humidifier
Fan-Powered Humidity Control Delivers Year-Round Comfort
The Preferred Fan Humidifier directs just the right amount of moisture vapor into furnace ducts for greater whole-house comfort and less static electricity. Quiet, energy-efficient operation and two capacity models make it right at home, anywhere.
Self-powered fan
Easy access door
Low-noise operation
Durable cover
Optimum moisture distribution
Small or large capacity models available
UV Lamps
UV lamps are installed in the air handler of your HVAC system.
UV light is very powerful in that it can eliminate harmful pollutants from the air. They eliminate bacteria, mold, and viruses from circulating in your home.
They are very energy-efficient and can make a drastic improvement to your indoor air quality.
Below is the Preferred series of UV lamps from Bryant. If you're interested in improving the air quality of your home and are considering a UV lamp, get in touch with us by using our online quote and we'll be happy to recommend what's best for you.
Protect Your Home Against Bacteria, Mold and Germs
Bryant's Preferred UV Lamp attacks and kills mold and bacteria that can grow in moist heating and cooling systems, then circulate through your home. Silent operation enhances your family's comfort and health.
Kills bacteria and mold spores on cooling coil

Preferred Series UV Lamp
Models: UVLBB2LP, UVLBB1LP
Improves indoor air quality
Silent operation
Enhances air flow
Minimizes build-up on coils
Helps to improve system efficiency
5 year limited warranty, 90-day limited warranty for lamps
Air Filters
Air filters are an important part to indoor air quality and to the entire HVAC system within your home.
They filter the air of dust and particles, allowing your other HVAC equipment to function more efficiently and you to breathe cleaner air. Filters can make a significant difference to the quality of air you breathe, and can help prevent asthma and allergies.
Types of Air Filters We Offer
There are many types of filters available that vary greatly in their level of filtration. Below we have listed some of the top ones we use, but the experts at Stan's will be able to recommend what's best for your current HVAC equipment, and of course, for you.
HEPA Air Cleaners
HEPA air cleaners will filter particles (dust, smoke, pollen, animal dander, dust mites) in the airborne environment down to 0.3 microns in size, at an efficiency rating of 99.97%.Filters come in all different sizes/ shapes.

HEPA Air Cleaners
Finally the most powerful HEPA (High Efficiency Particulate Air)
Air Cleaners are available for your whole home. Available in four sizes, these self-powered models will deliver: 245, 330, 540 or 560 CFM of clean air.As millions of airborne particulates and gases travel through your heating/cooling system 4-5 times every hour, the HEPA Air Cleaner connects to the return air duct and diverts 1/3 or 1/2 of this dirty air through a 2 or 3-stage filtration system. Your home can reach as many as 67 whole-house air changes/day depending on your house size and model chosen. And when you add a Totaline Gold Electronic or Media Air Cleaner to your return air, all of the air in your home will be filtered. Now that's clean! The Totaline Gold Electronic Air Cleaners electronically remove airborne pollutants as small as 0.01 micron (1/2,540,000 of an inch). Lifetime Filter is environmentally friendly and preferable to disposable filters. Simply washes clean, so you save money! Quiet operation and user-friendly and very easy to maintain.
Heat Recovery Ventilators (HRV)
An HRV, also known as a Heat Recovery Ventilator, is a heat exchange device. It transfers heat between inside and outside of the home to regulate the temperature within. During the summer, an HRV will extract stale, hot air from inside and push it outside, and vice-versa during the winter, meaning less work for both your furnace and air conditioner.
It's a very useful addition to your home HVAC system, serving to improve your home's overall efficiency in maintaining proper indoor temperature and air quality.
See also the energy recovery ventilator.
We offer the trusted, efficient, and high-performance heat recovery ventilators from Bryant.
Improve Indoor Air Flow and Protect Your Heating Power
The Preferred Heat
Recovery Ventilator helps your family breathe easier during the heating season by adding fresh, prefiltered outdoor air to your home. Furnace energy efficiency remains unchanged, pollutants and humidity better controlled.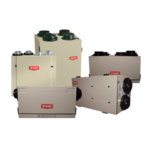 Preferred Series Fan Humidifier
Models: HRVXXLHB, HRVXXLVU, HRVXXSVU, HRVXXSHB, HRVXXSVB
Up to 84% energy recovery
Automatic defrost
Reduced humidity during heating season
Reduced indoor air pollutants
Horizontal, vertical or crossflow configurations
Crossflow and counterflow cores
Prefilter for incoming airstream
Easy "no tools" maintenance
Basic, standard or automatic controls
Quiet operation
10-year limited warranty on parts
Energy Recovery Ventilators (ERV)
ERV – An Efficient Addition to the Home Comfort System
The ERV is an air exchange systems which supply fresh air to the home, exhausts stale air, and recovers energy from the exhaust air in the process. The difference between an ERV and an HRV is that the energy recovery ventilator will also adjust humidity within the home, while the HRV only adjusts the temperature.
Benefits of an Energy Recovery Ventilator:
They are an energy-efficient way of exhausting indoor air pollutants to ultimately improve indoor air quality
They maintain a regular supply of fresh, filtered, and tempered air throughout the home
They control indoor humidity when outdoor humidity levels are lower
They recover heat from exhaust air during the winter, meaning less work for the furnace
They cool air on its way inside the home during the summer, meaning less work for the A/C
Below you can find details on Bryant's Preferred series of energy recovery ventilators.

Preferred Series Energy Recovery Ventilators
Improve Indoor Air Flow and Protect Your A/C System
The Preferred Energy Recovery Ventilator brings fresh, prefiltered outdoor air into your home during the cooling season without lowering air conditioner efficiency. Fewer pollutants and reduced humidity improves air quality and boosts comfort.
Up to 84% energy recovery
Reduced humidity during cooling season
Reduced indoor air pollutants
Prefilter for incoming airstream
Basic, standard or automatic controls
Easy "no tools" maintenance
10-year limited warranty on parts
Call Us Today for a Free Estimate