Skip to Content
24-Hour Emergency Furnace Repair Services
Proper maintenance is key to keeping your furnace from breaking down. However, if it does, you can't afford to sit around and wait for repairs. At Stan's Heating & Air Conditioning, we provide 24-hour emergency repairs for your furnace. We believe that no family should be left in the cold, especially during Canada's brutal winters. Our team takes the time to properly diagnose your furnace's issue before moving forward with repairs. This saves time and energy as a whole. Our repair technicians have years of experience and are certified, licensed, bonded, insured, and guaranteed to serve you to 100% satisfaction. Read about our furnace repair services we offer Ottawa, and give us a call to schedule your appointment. Whether you need routine maintenance or a fast repair in the middle of the night, we're here for you.
Reliable Home Heating Repairs
It's important to make sure your furnace is repaired with high-quality parts and tools to avoid further issues down the road. At Stan's HVAC, our repair technicians only work with top-brand manufacturer-approved parts and components for all our work. No matter what we're helping you with, whether it's upgrading your condenser, rewiring your furnace, or installing a new thermostat, we're here to ensure your system works efficiently and reliably. Plus, we stay competitive with our rates, offering affordable repair options. We put people in front of pricing, believing that every family deserves to be comfortable in their home no matter how frigid it is outdoors. Additionally, you shouldn't have to worry if your furnace will come on every time you turn on the heat. Our team is fully licensed with over 50 years of experience. Leave it to the experts when it comes to your home's heating.
Signs You Need to Repair Your Furnace
There are a few different reasons why a furnace can break down or not function properly. Most furnaces will last you 10 to 20 years with proper upkeep. You should be changing out filters and inspecting connections. If you have noticed any of the following issues with your heater, it's time to give us a call. While we always recommend adhering to a maintenance schedule, we understand accidents and breakdowns can happen. That's why we're here to help. Here are a few of the issues to look out for that means it's time to call Stan's:
Furnace not producing heat – your thermostat could be set improperly, you may have a blown fuse, or your pilot light might be out.
Furnace isn't producing enough heat – this usually is caused by clogged or dirty filters.
Furnace frequently turns on and off – you may have a duct issue or a filter problem. The blower motor may also need repairs or a replacement.
Furnace is louder than normal – the components may need oil, or you may have a pilot light issue.
Pilot light is out – this is a quick, easy, and safe fix.
There are a few other issues we're happy to help you with if they arise. If you notice any of these problems, call us for fast and efficient repairs:
Uneven heating per room in your home
Foul smells when the furnace starts
Furnace running for longer than normal
Furnace won't start
Cold air coming from the vents
Noticeable increase in your energy bill
Should I Repair or Replace My Furnace?
After about ten years of service, it may be time to start thinking about replacing your furnace. Furnaces tend to break down more frequently, costing you more money in repairs as they pile up. We're happy to help you determine when it's time to replace your furnace. If the repair costs outweigh the cost of a new furnace, it's a pretty straightforward solution. The biggest reason to upgrade is the amount of technology and features of modern furnaces. New heaters make your life easier and more convenient with features such as fixed vs. variable speeds, smart controls from your phone, and more. Plus, modern furnaces are significantly more energy-efficient, saving you on your energy bills and helping to reduce your carbon footprint at the same time. Think about your furnace as an old car – at some point, it's time to stop pouring money into repairs. Another great reason to replace your furnace is the overall peace of mind you have each winter when it's time to turn it on. You won't have to worry about it breaking down when you need it the most. Keep you and your family safe and comfortable with repair and replacement services from Stan's HVAC.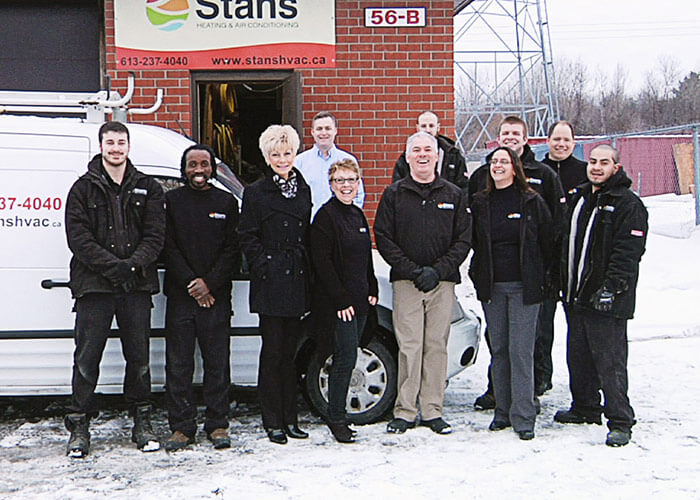 What Makes Stan's Unique?
Since 1969, Stan's HVAC has been Ottawa's go-to furnace repair service. Our diligence and dedication to serving our community with reliable, affordable, and efficient repairs, replacements, and installations are what drives us. We only staff highly-knowledgeable, licensed, and expert repair technicians to accurately diagnose and solve your furnace issues. No family should have to worry about how long they'll be without heat in the winter. We've been a family-run business proudly serving families in our community. Our belief is that no homeowner should have to pay an arm and a leg to keep their family comfortable in their home. Plus, we're an accredited member of the Better Business Bureau with an A+ rating and a certified member of the Heating, Refrigeration, and Air Conditioning Institute of Canada (HRAI). While we're on your property, we respect your space and time, working diligently to repair your furnace and cleaning up as we go. Contact us today to schedule your furnace repair in Ottawa.
Our 24-Hour Emergency Furnace Repair
If your heat is out, we're here for you. Our team of knowledgeable and efficient technicians is on-call 24 hours a day, seven days a week, all to help you and your family. You don't have time to waste when your heat goes out in the middle of the winter. That's where we come in – bringing you quick and reliable repairs when you need it most. As soon as your furnace goes out, give us a call.
Call Us Today for a Free Estimate