Skip to Content
On-Demand Gas Water Heaters in Ottawa
Water Heaters Product in Ottawa
With Water Heaters, You'll Never Have a Cold Shower, Unless You Want To
A fundamental part of the home HVAC system, water heaters serve the basic function of heating up water to be delivered to areas of your home when needed. We often don't look at a hot water tank as needing to be replaced unless it's not working, but with the latest models of hot water tanks, the difference in performance and economical savings really make it worthwhile to consider a more efficient piece of equipment.
You might just be surprised at how soon the savings will pay for the investment.
If you're not sure what you need, give one of our friendly representatives a call at 613-237-4040 or use our online form and we'll be happy to recommend what's best for you.
Ottawa Gas Water Heaters
Here at Stan's, we offer many types of water heaters including natural draft, power vented, direct vent, and tankless. We carry many types of water heaters in many different sizes to ensure we have the type that works best for you.  See below for the types of water heaters we offer from our trusted network of suppliers.

Atmospheric or Natural Draft Gas Water Heater
The Atmospheric or Natural Draft style of water heater is designed to operate with your existing working chimney.  These are commonly found in older homes that used a chimney for the furnace and fireplace.
Ranges in size from 30 US Gallon to 75 US Gallon.
Energy Factor rating is ~0.60.
No electricity required as it uses a standing pilot.
Almost silent operation.
Commercial grade glass liner and single anode for corrosion resistance.

Power Vented Gas Water Heaters
The Power Vented style of water heater is the standard for most homes today.  These water heaters use plastic venting to be able to exhaust burned natural gas to the side of the home and these are the most commonly found type of water heater in Ottawa homes today.
Ranges in size from 40 US Gallon to 75 US Gallon.
Hi Input models available for homes with the need for more hot water.
Energy Factor rating is 0.70.
These units require power to operate the ignition and the inducer motor on the top of the tank.
Flexible venting options allow this unit to be placed just about anywhere in the home with up to 125' of plastic venting.
Commercial grade glass liner and single anode for corrosion resistance.

Direct Vent Gas Water Heaters
The Direct-Vent style of water heater is not that common, but quite necessary in some homes.  It uses a concentric vent kit that allows the water heater to terminate without a chimney and without the need for electricity.
These come in 40 US Gallon and 50 US Gallon.
The energy Factor rating is ~0.62.
Can be installed in places that other types of water heaters cannot as they use no ambient room air.
Terminate using a concentric vent much like a gas fireplace.
Requires no power and uses a standing pilot.
Commercial grade glass liner and single anode for corrosion resistance.
High-Efficiency Gas Water Heaters
The Envirosense and Polaris by John Wood offer loads of domestic hot water production, and also the ability to be used in a system for space heating where they can be connected to a furnace (hydronic fan coil) or even a radiant floor.  And because they heat more than just your hot water, they need to be more efficient.

Envirosense Power Vented Water Heaters
These 94% efficient water heaters are commonly found in modern homes that qualified for Energy Star rebates.  They are sometimes used as just a domestic water heater, but also along with a water furnace or hydronic fan coil in some cases.
94% thermal efficiency rating.
Available in 50 US Gallon, with a high input of 76MBH.
Uses a single pipe venting (with the need for a combustion air inlet as well).
Condensing model produces waste water as a by-product of efficiency.
utilizes a commercial-grade glass liner with two anodes for superior corrosion resistance.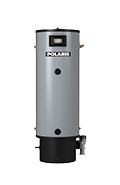 Polaris Power Direct Vented Water Heaters
Polaris water heaters are employed all over Ottawa where compact efficient water heating is required.  Common in condos and other urban residential settings, they offer the best of every category when it comes to hot water tanks that can do it all.
96% thermal efficiency rating.
Available in 34 US Gallon and 50 US Gallon sizes, with ranging inputs from 100MBH to 199MBH
Full 444 Stainless Steel tank liner and heat exchanger for superior corrosion resistance without the need for an anode.
Compact design allows flexible installation, often in the bottom of a closet with an air handler located above.
Can also be used in radiant floor applications.
Two pipes direct venting to allow installation in small enclosures.
Modulating the gas valve allows the boiler to run efficiently at all times.
Tankless Water Heaters
On-Demand Hot Water
Tankless water heaters instantly heat up water as it passes through the device, allowing for an instantaneous and continuous flow of hot water, as well as energy savings in some cases. Tankless water heaters are generally an eco-friendly choice with easy and cost-effective installation and venting processes.
Benefits of Tankless Water Heaters
Instant, continuous hot water
Less energy costs
Takes up less space

Models: RU199iN
Rinnai takes tankless water heating one step further with condensing technology that delivers more efficiency than ever before. Enjoy all the same tankless benefits you've come to expect from Rinnai, plus even greater energy savings. Providing homeowners with an endless supply of hot water, energy savings, a space saving design and environmental benefits, Rinnai offers ease of installation now with more venting options right out of the box. As the only manufacturer to offer both concentric and twin-pipe PVC venting, no adaptor is necessary to give you double the venting options on every installation. One unit. Two venting options. From one project to the next, with the RUC line of Ultra Series Tankless Water Heaters the freedom of choice is yours … right out of the box.

Rinnai Ultra Series
ENERGY STAR Qualified
Energy Factor of .95 for Natural Gas and Propane
Built-in Rinnai Circ-Logic TM recirculation program cycles an external pump at preset intervals and temperatures to maximize efficiency and comfort (see brochure for more details)
Certified for Installation in Manufactured (Mobile) Homes
Enhanced scale detection lessens possibility of serious, long-term damage to unit
Temperature lock function prevents accidental or unauthorized changes to water temperature
Leak detection shuts off water to the interior units to limit property damage
Call Us Today for a Free Estimate