Skip to Content
Being Mindful of Door to Door Salespeople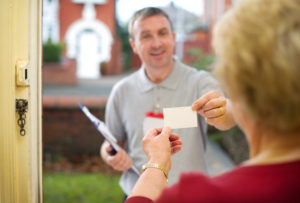 Knowledge is power! This is more than just a popular phrase, but important words that everyone should live by. The more aware someone can become about something, the better decisions they will be able to make beforehand.
When it comes to door to door HVAC salespeople, being mindful that this is not the way that reputable HVAC (or any type of company that deals with home services) should act is important. A recent example of how one of these companies targeted someone made us realize just how important this topic is, and that we should put our efforts toward helping to keep citizens of Ottawa and beyond safe by providing the right information.
'Thousands of Canadians get taken in each year by unscrupulous salespeople coming to their door selling everything from hot water tanks to new furnaces.
They say they're from a legitimate business or utility company and seem to have all the bells and whistles – a name tag, an official-looking clipboard. But in fact they are attempting to persuade unsuspecting homeowners to buy products they don't need, and at an inflated price.
Sad thing is, they're very convincing. They might tell you your furnace is outdated, against code, dangerous even, or that you are being overbilled. They aim to frighten, and in some cases convince people to sign into multi-year rental or payment schemes that are impossible to get out of.
Utility companies and respected heating and AC suppliers rarely sell door-to-door. Similarly, if a utility is servicing an area, it will inform residents in advance, and never ask to see a bill as it already has that information on file.When buying or renting a water heater, furnace or air conditioner, do it from a trusted store or through a licensed contractor.' (source: tricitynews.com)
Let it be known that Stan's HVAC your Ottawa HVAC professional, has never and will never conduct door to door sales to acquire new clients. We take pride in the home comfort services we are able to provide and only do it with the utmost integrity and responsibility. Learn more about our brand and request a quote online today!
Stay tuned, this page is coming soon.
Call Us Today for a Free Estimate