Skip to Content
Choosing Quality HVAC Services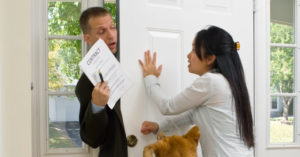 Have you ever heard the phrase 'you get what you pay for'? It's safe to say that you have, but more importantly do you follow that advice? It's a great feeling to get a deal, but what people should always be seeking whenever they are purchasing a product or service is value for your money; are you getting a quality product/service and peace of mind?
Being able to consistently regulate the comfort levels of the home is very important as it is where a family is able to fully relax. The two main components of any given family being able to be as comfortable as possible when they are home are connected to the type of HVAC products that are within the home and the type of service that comes with those products (both installation and maintenance).
Staying informed about quality services is just important as knowing about those that have a less than stellar approach to home comfort. "Thousands of Canadians get deceived each year by untrustworthy salespeople coming to their door selling everything from air conditioning units to hot water tanks to new furnaces. They say they're from a legitimate business or utility company and seem to have compelling proof – a nametag or an official-looking clipboard. But in fact they are attempting to persuade unsuspecting homeowners to purchase products they don't need, and at an inflated price. Utility companies and respected heating and AC suppliers rarely sell door-to-door. Similarly, if a utility is servicing an area, it will inform residents in advance, and never ask to see a bill as it already has that information on file. When buying or renting a water heater, furnace or air conditioner, do it from a trusted store or through a licensed contractor. Make sure you have plenty of time – days even – to review the product information, the options and, most importantly, the fine print."
Trust in knowing that value for your hard earned dollars and providing top quality professional home comfort products and services are the top priorities of Stan's HVAC, your Ottawa home comfort experts.
Call Us Today for a Free Estimate